Local Outreach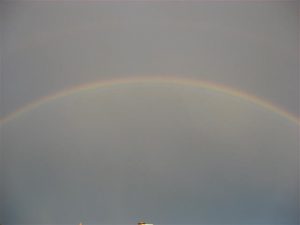 TUCSON INTERFAITH HIV/AIDS NETWORK (TIHAN) / Tucson, Arizona
This organization consists primarily of Interfaith communities assisting in the non-medical care of HIV+/AIDS patients and/or family members. Cornerstone Fellowship provides monthly financial support and additional support through attendance at fundraisers and other special events throughout the year. Cornerstone is one of three faith communities that sponsors TIHAN's POZ Cafe each December.
Cornerstone also provides meeting space for TIHAN classes and meetings.
SOUTHERN ARIZONA AIDS FOUNDATION (SAAF) / Tucson, Arizona
Each year in December, SAAF and TIHAN collaborate to sponsor "Family Day." Festivities are designed for families living with AIDS.  On this special day, family members are able to "shop" for one another for gifts that have been donated. For the last several years, Cornerstone Fellowship has made a monetary donation specifically for the purchase of childrens gifts for Family Day. In addition, members of the Cornerstone family have volunteered on the day of the event.
Four times a year, Cornerstone sponsors the monthly Pride Meal for the Eon Youth Lounge. The Eon Youth Center is a youth-driven program that works to strengthen Tucson's LGBTS youth communities by creating social opportunities, providing information and support on health issues,  and advocating for youth rights.
Cornerstone contributes to the annual AIDS Walk.
SAAF ANTI-VIOLENCE PROGRAMS / Tucson, Arizona
Domestic violence is unfortunately alive and active in the gay, lesbian, bisexual and transgender community. Cornerstone Fellowship has been a longtime supporter of  the work of this project.
SOUTHERN ARIZONA SENIOR PRIDE
Southern Arizona Senior Pride recognizes and responds to the unique concerns of lesbian, gay, bisexual, and transgender (LGBT) seniors, age 55+ and their younger allies, by creating volunteer, social, and educational opportunities for senior LGBT people, increasing awareness of LGBT aging issues, and developing age-appropriate, LGBT-friendly information and referral services.
Cornerstone provides meeting space and other support for this important community resource.
GOOD SAMARITAN FUND / Tucson, Arizona
This fund has been around almost as long as Cornerstone Fellowship and has been used to help hundreds of people over the years. Good Sam provides financial assistance to those in need, both from our congregation and the rest of the community.
TUCSON COMMUNITY FOOD BANK